Keynote Speaker Denise Ryan
 
Denise Ryan is a motivational fireball who lights the fires of enthusiasm so people can do great things. She is an author as well as an MBA and a CSP (Certified Speaking Professional), a designation of excellence held by less than 10% of professional speakers. Denise has worked with thousands of business owners to re-energize them about their work and help them make more money. She's spoken for many organizations – from small and large businesses to the Department of Homeland Security! (In our industry, she's spoken for the Southeastern Car Wash Association.) She recently made Meeting & Convention Magazine's list of favorite speakers alongside Bill Clinton, Condoleezza Rice, and Anderson Cooper.
For some other videos of Denise in action please visit: http://www.firestarspeaking.com/denise-in-action/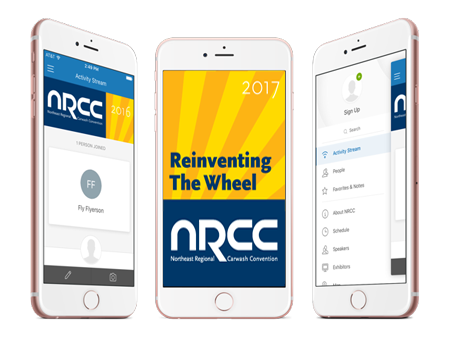 Bring the 2017 Conference to your fingertips, for access on the go.
The 2017 NRCC APP is available for download now. Download the new and exciting 2017 Mobile App on your iPhone, iPad, Android or Blackberry device. There have been some changes this year that make the use of the App more important than ever before.
With the mobile app, you'll have access to the schedule of events for educational sessions, view speaker presentations, communicate with all companies displaying in the exhibit hall as well as to network with other conference attendees… all in the palm of your hand.
2017 Sponsors